English Language Lab Software
English language lab software is a very effective tool in teaching the English language to students. This software enhances the skills of a student. The teaching in Language lab software is based on four skills i.e. listening, speaking, reading and writing. Firstly, the students listen to the voice accent which is available in three styles i.e. Indian, British & American. Secondly, this software provides the facility of recording the voice by following the accent style and listening own voice and practicing accent. Thirdly, we can read different lessons which help in better understanding and usage of English grammar rules. Fourthly, one can learn writing skills through practice by taking help from various videos lectures given in the English language lab system.
"Learning Today . . . Leading Tomorrow."
English Language lab software helps in better understanding of concepts of the English language. It provides a wider platform for teachers to teach students English in a creative way, which will result in fast and thorough learning of concepts. Teachers can create lessons, assignments, and test papers of their choice. English communication lab helps in improving the communication of students. They learn in an effective and easy way.
Importance of English Language lab Software
Language lab software is known as Digital language lab software used in schools, colleges, Universalists, institutions, polytechnics etc. to help students enhance their English skills and make them ready for future challenges. Digital language lab has gained momentum with time. It has brought drastic changes in teaching English language skills. English is considered as a second language in India. Learning the English language is always a benefit for the individual as it is the common language is mostly understandable in other countries. English language lab software works on overall growth of an individual.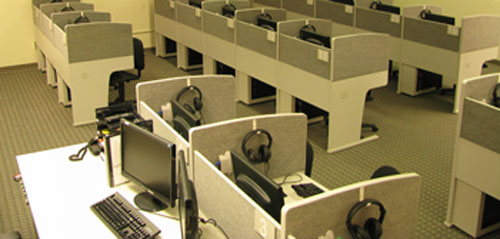 The benefits of learning the English language through English Language lab software are given below:
Language lab software is a platform which gives students an opportunity to learn with digital tools.
Highly effective software as teachers can monitor students' activities remotely which provides total control for the teachers.
Create, organize and manage content according to the syllabus.
Voice recording facility for exercises and text.
A teacher can create and conduct online examination and generate a report.
Conduct online classes and doubt session through virtual classroom.
Batch Management and Notice board facility are provided in the software.
Make language skills, PD training and other eLearning facilities available to students at their own convenience.
From Basic to advance level training is given in language lab software.
Accent training in Indian, British and American language module.
Also Read Know:
Why English language lab for schools
English Language lab software is user friendly software and it provides a platform for students to learn English grammar, vocabulary, LSRW skills in a seamless manner. With the advance of computer technology it has become easy to teach English language to students and it has also been observed that learning through Multimedia based language lab software keeps students more engaged and they retain the topics thoroughly. English Language lab software provides knowledge in a fun way which is easily grabbed by students. In schools, students can easily understand the concepts of English language through language laboratory software or school management software. Language laboratory software provides the facility of repetition of any topic, many students can't able to understand the topic or concept in one go or they feel shy while asking in class but English language tools given in the English language lab software can be used to understand any concept again and again. This is the advantage of using language lab software.
AICTE – English Language Lab Software
In Universities, AICTE based language lab software is used to teach students English as per the curriculum of university. This helps them in better understanding of concepts and making notes and practice exams in English language lab software. English language lab for college contains different content depending upon the demand of the college and syllabus. Language lab software contains wide content from a beginner to advance learner. In Language laboratory software also helps in grooming student's personality by offering personality development courses, which will be beneficial in future. Personality development skills are not only restricted to a language lab software, these will help in grooming overall personality of students.
Why English is Important in Education

The importance of the English language is increasing day by day. English is a global language and it is required in every aspect of life. It is always better to acquire the skills from an early stage. It has been noticed that due to the shortage of good teachers, students can't able to learn the right skills of English language. Very few people know the correct usage of English skills. In India, people lack in English skills due to lack of good teachers and incorrect pattern of teaching a language. It should be taught to learn skills and improve them by practice not by memorizing the answers. They should be taught correct usage of rules and principles of grammar used in English language lab. Grammar should be teach using the practical situation not only theory based. Students can easily understand when they can connect with the examples given while teaching the language. We have to take a step forward to make English language learn by all in an easy way. Digital language lab provides the facility of learning grammar through images. Students look at the pictures given in the exercises and practice using the correct grammar. Like this they learn and understand the grammar rules in better way.
Digital language lab Software With LSRW Skills
Digital language lab helps students in building a strong vocabulary, grammar usage, phonetic sounds and in turn they can learn to form a sentence easily. Various therapies like MTI, Speech and RPID are used in English Language lab software for the removal of fear in speaking the English language, helps in correct pronunciation, build vocabulary, and polish language skills – LSRW skills. Learning the English language through digital language lab software brings confidence and improves over all personality of an individual. The voice recording facility in Language lab system helps in improving the speaking skills as well as listening skills of students. They can learn the correct pronunciation of words, forming sentences through this software. Advance exercises are also available in this software to practice and improve skills. Reading skills are developed through this software as skimming reading will not produce any results to the students. At the initial stage, simple exercises are given to read simple words and understand the sentences. Reading aloud helps in improving the reading skills in short duration. Further, they can make sentences and able to write passages gradually. In this way, students can learn LSRW skills which will make their foundation strong for English language.