Importance of Learning English Skills in School
Learning the English language is not easy until we get the right study material to learn and practice. T he English language is a global language and to master, this language one needs to learn the skills. It helps in reducing the communication gap. If a student is provided the platform of learning the English language from elementary class, then they can build a strong foundation in English. But to learn this language teacher has to guide the students in the right way to enhance the skills required to learn this language.
"To have another language is to possess a second soul."
The English language is a vast skill subject which covers vocabulary, grammar, tenses, pronunciation, phonetics, and much more topics. Spears language lab software covers syllabus according to the CBSE curriculum from class 1 to class 12. It will not only help students to learn English in an easy way but also useful for the teacher to make them understand each and every topic.
It is very essential to lay a strong foundation of English language because English is used in all subjects as per school curriculum whether it is Maths, EVS, GK, Computers, and other subjects. If a student can read and able to understand this language, he can score good marks and excel in class. We in our digital language lab software not only focus on LSRW but cover the soft skills which need to be enhanced with academics, which boost the students and enlighten their minds.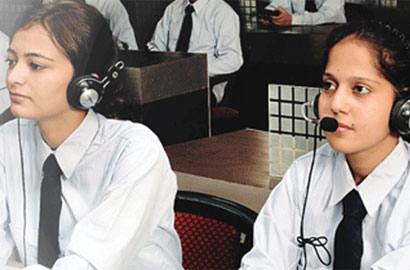 Students can learn English gradually by hearing the sentences, understanding the words written in the book and express ideas while speaking and writing which will help them to communicate both efficiently and effectively. It has been noticed that many students get confused in the pronunciation, we in Spears language lab software covers the entire syllabus from grammar, vocabulary, pronunciation, phonetics, exams to practice and much more study material to help the students to learn in an effective way.
The language can only be better learned when it has strong content. Content plays an essential part in teaching any language. We in Spears language lab software not only provide the best technology but also best content through a huge number of videos for learning English language skills on all topics and various exams to practice and achieve success in their life.
Learning good English skills from the school level will help the students to communicate better and prepare a bright future for them. The teacher can help the students to develop various skills by using an innovative way of teaching English skills like interactive videos, assignments, test papers and much more. The aim of language lab software is to help students to learn English skills in an easy manner and speak this language as any other native speaker.